about us
Since 1973, Pierre NOUAILLE has been connecting business in the Middle East.
A full life of experience, in the approach of business in the Middle East and overseas.


"
You must understand a country culture and method before any settlement, it's fundamental

"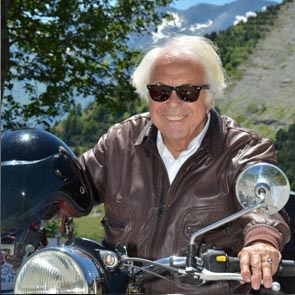 Pierre NOUAILLE
Founder, C.E.O.
After having graduated from the French Business School : ESC LYON (now EM LYON), and getting a MBA from NorthWestern (now Kellogg University Chicago), Pierre NOUAILLE created SOFRACE Société Française de Commerce Exterieur (www.sofrace.com) with his closest friend Christian VIBERT, who also graduated from ESC LYON.


Having studied the potential of the Middle East, they both decided to focus on these exponential growth markets, namely Lebanon, Libya, Saudi Arabia, Kuwait, Iraq, Dubai, Qatar..
At first, they started as representative of French Clothing brands including PIERRE CARDIN, FACONNABLE, PIERRE CLARENCE, PETIT BATEAU, etc... together with prestigious names of perfumes and cosmetics brands in Iraq, Libya, Saudi Arabia, such as Parfums Christian DIOR, GIVENCHY, GUERLAIN and DECLEOR.
As these countries were building huge housing projects in the 80's, Pierre NOUAILLE thought immediately of selling French construction equipment and introduced brands such as FACOM (hand tools), ROCK (concrete mixers and dumpers), BERNARD Compressors, MONTABERT (rock breakers) in Saudi Arabia, Iraq and Libya.
During this period, Christian VIBERT extended the activities of Sofrace in the clothing industry.
Following the construction program, it seemed natural to introduce French furniture to these markets such as GAUTIER and PARISOT, the French leaders in this field.
This culminated when Pierre NOUAILLE secured in the 80's with PARISOT Group a turn key contract for the supply and installation of 4 700 villas for the National Guard of the Saudi Arabia in Khashm Al Aan , near Riyadh. It was probably the largest contract ever signed in the furniture industry.
In 2000, Pierre NOUAILLE and Christian VIBERT decided to go separate ways for personal reasons. Christian VIBERT kept Sofrace while Pierre NOUAILLE started a new company : COFRACE (Companie Française pour le Commerce Exterieur).

From 2000 to 2015, Pierre NOUAILLE has developed 2 main activities
Pierre NOUAILLE

becomes the official consultant for specific projects and special events (see PROJECTS page). In March 2014,

Pierre NOUAILLE

has signed with

EMAAR

a turn key contract to organize the world well-known famous

Festival of Lights of LYON in Dubai.

For this occasion he has been appointed "Ambassador of Lyon".


On the other hand, following the development of modern retail in Malls such as Dubai Mall and the Mall of Emirates,

Pierre NOUAILLE

introduced these new concept stores under franchise business models in fashion and food & beverage (see illustrated brands in page MAJOR BRANDS).

From 2014,

Pierre NOUAILLE

has joined ADP partners, a Chinese company to develop the same consultant activities in CHINA.
COFRACE has recently expanded his consultant activities with local partners in the North African market, namely ALGERIA, TUNISIA and MOROCCO.
main fields of cofrace's activities
The main objective of COFRACE
to be the consultant of European companies for the introduction and the settlement of French and European companies
in the Middle East, North Africa and China countries
Qatar
United Arab Emirates
Bahrain
Libya
Saudi Arabia
Kuwait
Lebanon
Oman